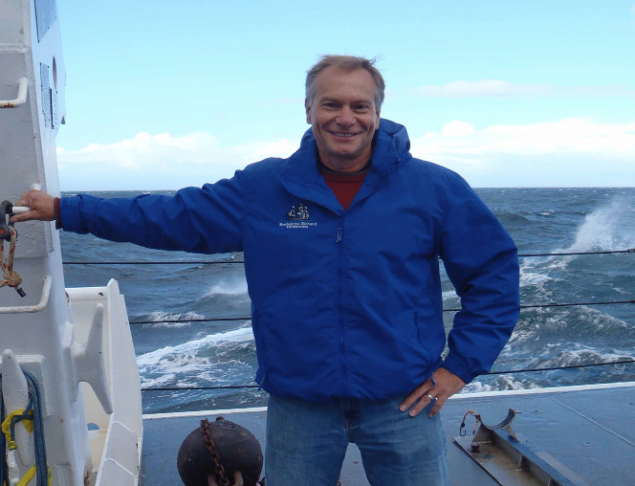 Born and raised in Palestine, Texas, Robert Neyland received an M.S. in Public Administration and Planning from University of Texas at Tyler in 1986 and anthropology degrees through Texas A&M University's Nautical Archaeology Program; his M.A. in 1990 and PhD in 1994. During his archaeological career he has worked on a variety of shipwreck sites: a Bronze Age shipwreck in the Mediterranean, post-medieval wrecks in the Netherlands, search for Columbus's caravels, and shipwreck surveys in Caribbean and North America.
Dr. Neyland has worked as Navy underwater archaeologist from 1994 to the present. He has been the official Branch Head of Underwater Archaeology Branch since its creation in 1996. From 1998 to 2002, Dr. Neyland was also Project Director for the raising and excavation of the Confederate submarine H.L. Hunley. The Hunley recovery is one of the most successful marine archaeological recoveries undertaken and the Hunley project received in 2002 the first award given by both the National Trust and the Advisory Council on Historic Preservation for partnership. He also received in 2002 the Don Turner Award from USS Constitution Museum for his work on Hunley. As the NHHC underwater archaeologist, Dr. Neyland has been the principal investigator on other Navy archaeological surveys of the scuttled Revolutionary War fleet lost in the Penobscot River, Maine, U.S. Navy ships from the anti-slavery patrol, WWII naval wrecks lost during the Allied invasion of Normandy, and CAPT John Paul Jones, Bonhomme Richard. Other notable naval shipwreck projects and archaeological collections overseen by Neyland as Head of Underwater Archaeology include CSS Alabama, USS Tecumseh, Benedict Arnold's scuttled barge Spitfire, and many more significant naval wrecks.
Dr. Neyland has also overseen the development of the NHHC Underwater Archaeology Branch, creation of a ship and aircraft wreck databases, wreck specific management plans, and the drafting of the Sunken Military Craft Act, which was passed into law in 2004.
For the NHHC, Dr. Neyland is a scientific advisor on the CSS Alabama Franco-American Scientific Committee and USS Monitor National Marine Sanctuary Advisory Council.
In his professional career outside the Navy he has served as Chair of the Advisory Council for Underwater Archaeology, Board Director for the Society of Historical Archaeology, State of Maryland Governor's Advisory Committee on Archaeology, and a member of Virginia's burial task force to revise state archaeological standards regarding burials and human remains.
Dr. Neyland is the author of numerous articles, monographs and book chapters related to Navy underwater archaeology and underwater archaeology in general.